Nutbox new UI develpment proposal
背景 Background
Nutbox原来的前端界面相对比较简单,用户使用不是很流畅。且有新的功能时,添加不方便。故此,需要对前端页面进行重新设计。
The original front-end interface of Nutbox is relatively simple, and the interactive is not very will. And when there are new functions, it is not convenient to add them. Therefore, the front-end page needs to be redesigned.
摘要 Abstract
Nutbox前端界面主要包含钱包、SP代理、质押挖矿、跨链转账、PNUT买赞和治理模块。根据业务需求,我们重新设计了UI,也添加了一些新的功能。
The Nutbox front-end interface mainly includes wallets, SP delegation, stake mining, cross-chain transfers, PNUT buying upvote and governance modules. According to business needs, we redesigned the UI and added some new features.
1、新增PNUT_LP矿池
Add PNUT-TRX Mining Pool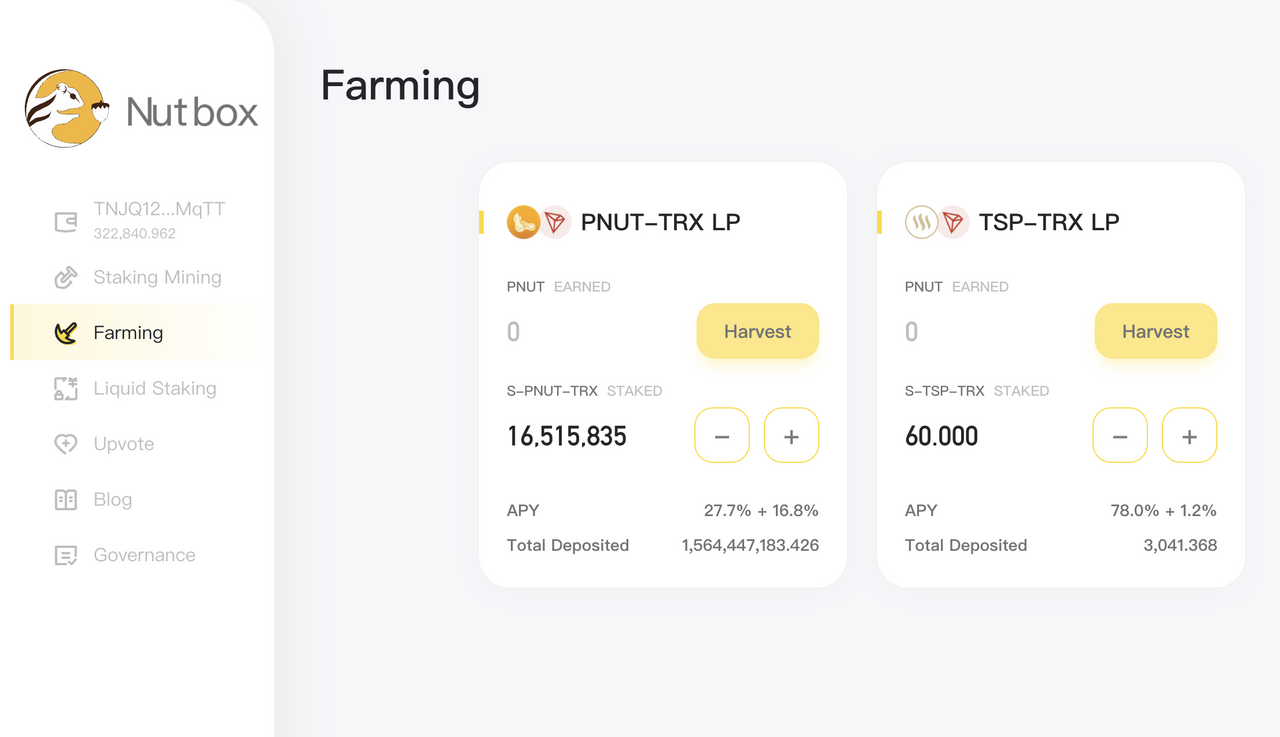 2、新增PNUT买赞页面,该功能在去年底已经上线,但没有一个统一的前端方便用户操作,故在此版UI中加入了相应的功能。
The PNUT for upvote page has been added. This function has been launched at the end of last year, but there is no unified front-end to facilitate user operation, so the corresponding function has been added to this version of the UI.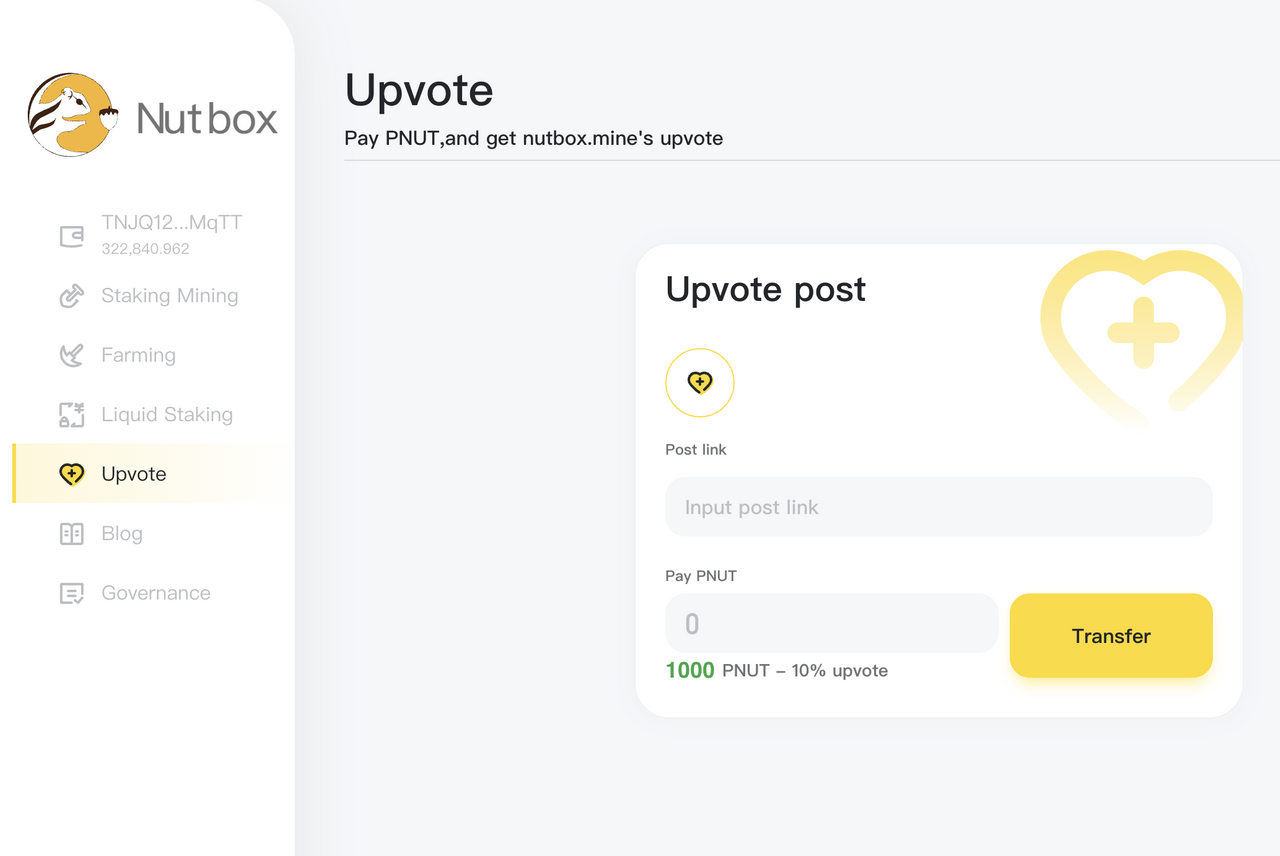 3、提案改善列表,目前的提案改善功能还处于开发初期,并没有一个专门的模块来处理提案。以往的方式需要用户到Steem的各种前端去搜索相应的帖子才能找到,非常不便。所以我们做了简单的提案整理,供大家方便的查看和投票。
Proposal improvement list, the current proposal improvement function is still in the early stage of development, and there is no special module to deal with proposals. The previous method requires users to search for corresponding posts on various front-ends of Steem to find them, which is very inconvenient. Therefore, we have made a simple proposal arrangement for everyone to check and vote conveniently.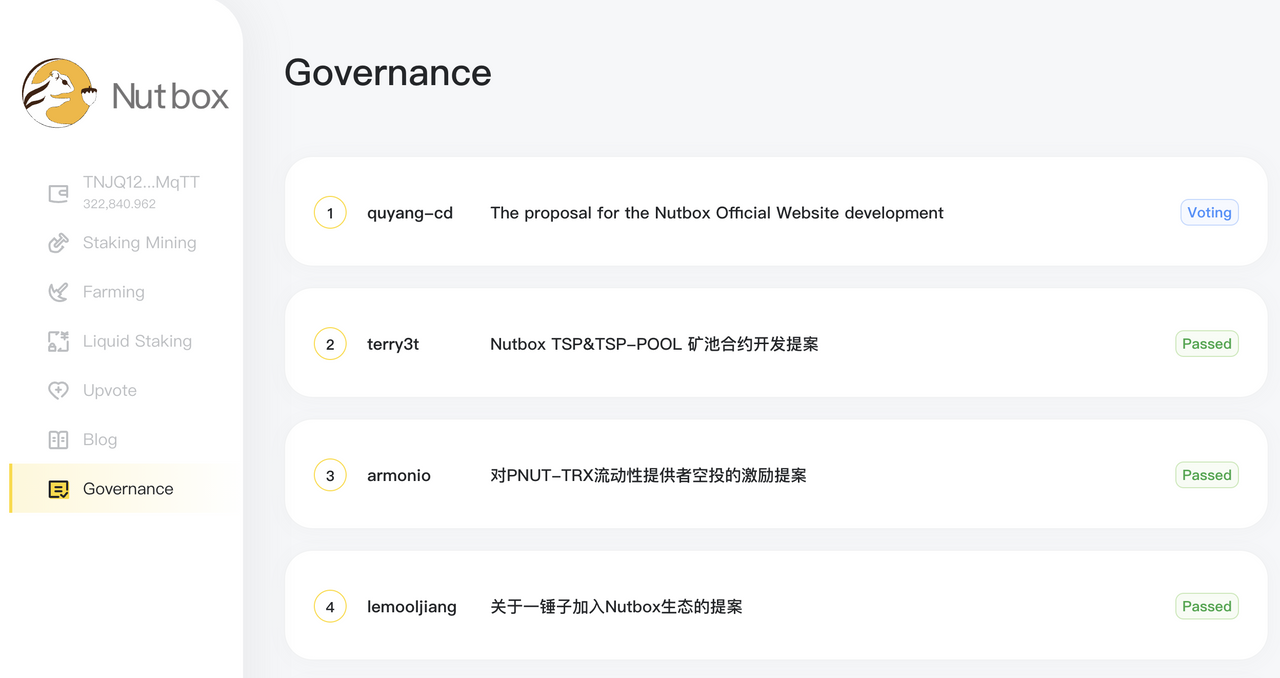 其余还有一些改动,这里就不一一描述,这里送上一份操作手册,方便大家使用:
There are some other changes. I won't describe them one by one here. Here is an operation manual for your convenience:
https://blog.nutbox.io/@nutbox.mine/the-new-ui-of-nutbox-is-about-to-online-and-the-tutorial-of-new-ui
对社区的益处 Benefit for our community
新版UI为Nutbox社区成员带来了便捷。
The new UI brings convenience to Nutbox community members
Nutbox大使计划已经同步启动,有了新的UI,对各大使在各社区的宣传将会更加有利。对Nutbox的扩展也起到了非常大的作用。另外,NutboxV2版本也将启动,新版的UI将会对V2版提供重要的参考。
The Nutbox Ambassador Program has been launched simultaneously. With the new UI, the promotion of ambassadors in various communities will be more beneficial. The expansion of Nutbox also played a very important role. In addition, the Nutbox V2 version will also be launched, and the new version of the UI will provide an important reference for the V2 version.
PNUT-LP的上线,也大大的激发了社区提供PNUT流动性,从上线前到上线后,PNUT-TRX资金池从26k美金上升到目前的95k美金,提升了360%。
The launch of PNUT-LP also greatly stimulated the community to provide PNUT liquidity. Thanks to the function, the PNUT-TRX liquidity pool rose from 26k US dollars to the current 95k US dollars, an increase of 360%.
项目节点 Project plan
1.2021-2-8
项目发起,原型图设计
Project initiation, prototype drawing design
2.2021-2-22
UI设计
UI design
3.2021-2-9
界面开发
UI development
4.2021-3-2
测试网发布,开始测试
Test on testnet
5.2021-3-8
项目发布
Publish
团队及主要分工 Team and main division of labor

申请的资金 Funding
该项目共申请38.5W PNUT作为该项目团队的奖励
The project applied for a total of 38.5W PNUT as a reward for the project team

iguazi123 TR4EQbKskgGzLuHN7Avaa5DmwfvWkRbo6f 10
terry3t TNJQ12KujHQCJHMj2ZHLCesNtqBaHZMqTT 20
Ooops TDQD6St4GHmK5SbC96CSgZEtaGTNXBnEAz 6
armonio TSh8ZoBwTwgSVSSLHUsZpvRoKNiVBt9RA7 0.5
happycapital TMPyuXEt6PxSjAP6iuzg23cucj32JD4D6C 0.5
sampraise TPtxQGdxSvPHGVFpDp9yPWacjnvKg6Z6gK 0.5
bsfmalaysia TPnz69xHLvySMzQjXD2XVFh4seUS8GPjct 0.5
sunnyz TKWJ2pSN5ZjEDhuYYQprnHGf6F9TPTKRPd 0.5