【wk23】Nutbox Weekly Report
Jun 6, 2021 Nutbox Team
Nutbox is a one-stop DAO (Decentralized Autonomous Organization) factory for the communities, providing a series of tool components (Crowd-staking, DApp Factory, DAO Governance Factory) for non-technical founders to easily create their own DAO platforms.
Official Website:https://nutbox.io
---
Peanut delegation review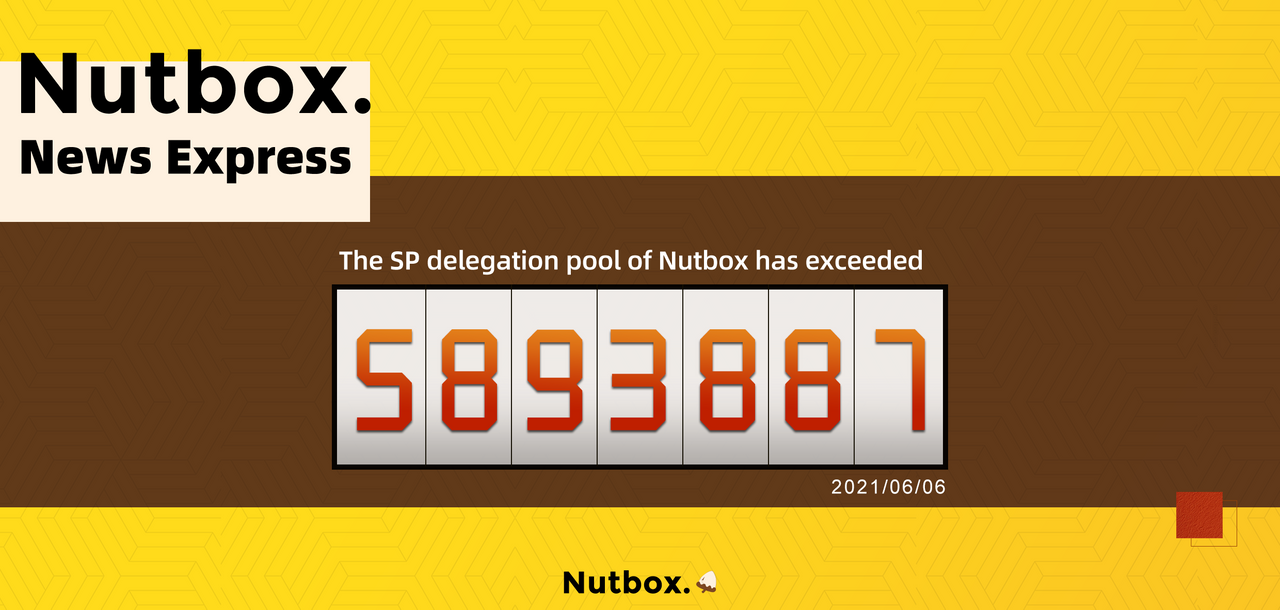 ---
1.TVL Overview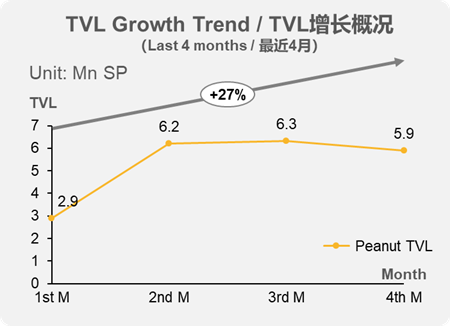 2.UG trend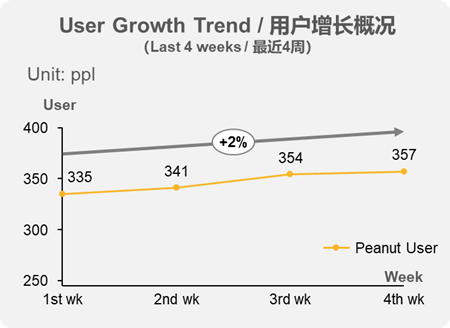 The scale of Peanut delegation pool is expanding to 5,893,887 SP, which comes from 357delegatees.Peanut is owned by every delegatee and Peanut's liability holder. If you delegate your SP to Peanut, you will get PNUT.
【For detailed distribution rules, please refer to the document】: https://docs.nutbox.io
【Delegation manual】: https://blog.nutbox.io/@nutbox.mine/the-new-ui-of-nutbox-is-about-to-online-and-the-tutorial-of-new-ui
Development update
Completed
The Nutbox Crowdloan module carries out the final preparations before online, including:

Enter the slot auction information of each project party and community;
Refactored Crowdloan Daemon;
Some details of the front end have been improved, and the user experience has been optimized.

Nutbox Contract completed the parts of bridge, including:

The realization of the bridge contract, including proposal creation, voting and execution logic;
Implement the Executor module, responsible for the execution of Proposal;
Improved some functions of other related modules;

Nutbox Donut Chain is having an in-depth discussion on the technical architecture with the web3 foundation.
In progress
Nutbox V2 front-end development, including:

Part of the front-end development of Nutbox V2 staking module.

The development of the Steem chain of the Nutbox Relayer Foreign Chain section, including:

Steem network block synchronization, verification and analysis;
Steem transaction data analysis and build Proposal according to Spec.

Nutbox Relayer HomeChain is partially developed.
To do
Nutbox CLI development.
Operation overview
Globle ambassador program
Nutbox now has 8 ambassadors worldwide, dedicated to the development and promotion of Nutbox in different regions. The ambassadors made the following contributions this week, thanks for all your work👏😊
1.@happycapital【Korean】
- Daily operation of Kokaotalk
- Translation of Nutbox weekly report (22th wk);
- Posting analysis of PNUT in terms of price, circulation and marketcap, etc. on steemit.👍
- Translation of testnet of Nutbox Crowdloan and Crowdstaking,and other articles
2.@abcallen【China】
3. @ale.aristeguieta【Venezuela】
Published a total of 2 Nutbox-related articles on Medium, Torum, Steemit, Hive, Facebook, Instagram; amazing
Published more than 300 Nutbox-related news on Twitter, and designed three videos for Nutbox on YouTube👏
Promote Trading Capital be a Official Media Partner of Nutbox👍
Daily operation of the Spanish community.
4. @bsfmalaysia【Malaysia】
5. @lnakuma【America】
6. @adikhen【Pakistan】
7. @TimBae【Korea】
【How to become Nutbox ambassador】:https://blog.nutbox.io/@nutbox.mine/nutbox-global-ambassador-program-or-nutbox
---
Community overview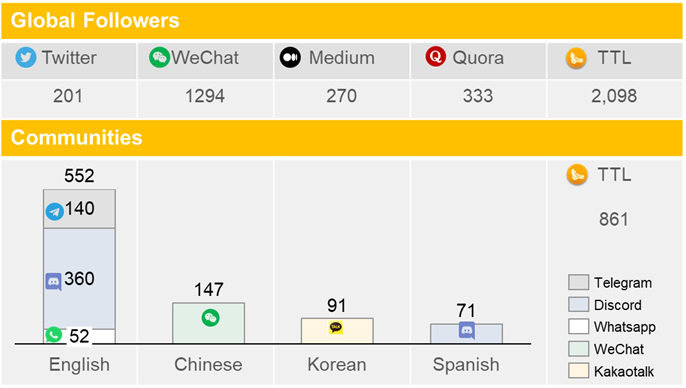 Data changes:
2,098 followers worldwide, 132 increase from last week;
861 community members, 106 increase from last week👏
Activity
Offline Activity
On the afternoon of June 5th, Nutbox members attended the event of "Polkadot Eco China Tour" in Xi'an and shared the theme of "Link to Web3.0 with Nutbox".
Sunny, Nutbox CMO, attended the event on behalf of Nutbox. At the meeting, she focused on issues such as what Nutbox is, how Nutbox Slot Auction products can assist the community and parachain project parties to participate in slot auctions in depth, and how to link to the Polkadot ecosystem through Nutbox. A popular and detailed answer was given.
---
Nutbox是面向社区的一站式DAO(去中心化自治组织)工厂,为非技术创始人提供一系列工具组件(Crowd-staking、DApp Factory、DAO Governance Factory),使其轻松创建自己的DAO平台。
现有代理成员 357 位,合记有效SP总数 5,893,887 SP。Peanut为代理成员所有,代理给Peanut将获得PNUT。https://blog.nutbox.io/@lnakuma/where-and-how-to-exchange-pnut-tokens
【详细分发规则可参考文档】: https://docs.nutbox.io
【代理教程】: https://blog.nutbox.io/@nutbox.mine/the-new-ui-of-nutbox-is-about-to-online-and-the-tutorial-of-new-ui
开发进度
已完成
Nutbox Crowdloan模块进行上线前最后准备,其中包括:

录入了各个项目方和社区的卡槽拍卖信息;
重构了Crowdloan Daemon;
完善了前端的部分细节,优化了用户体验。

Nutbox Contract完成了桥相关部分,其中包括:

桥合约的实现,包括proposal的创建,投票和执行逻辑;
实现Executor模块,负责Proposal的执行;
完善了其他相关模块的部分功能;

Nutbox Donut Chain正在和web3基金会就技术架构进行深入探讨。
进行中
Nutbox V2前端开发,包括:
Nutbox Relayer Foreign Chain板块Steem链的开发,包括:

Steem网络区块同步、验证以及解析;
Steem交易数据解析并根据Spec构建Proposal。

Nutbox Relayer HomeChain部分开发。
计划中
Nutbox CLI 开发。
运营概览
全球大使计划
Nutbox在全球共有8位大使,致力于Nutbox在不同地区的发展与推广。本周大使做了如下贡献,感谢大使们的工作👏😊
1. @happycapital【Korea】
日常运营kokaotalk韩国社区;
翻译第22周周报
分析并上传PNUT相关价格、市值等数据;
翻译Nutbox Crowdloan和Crowdstaking测试网,及多篇文章👍
2. @abcallen【China】
3. @ale.aristeguieta【Venezuela】
在Medium、Torum、Steemit、Hive、Facebook、Instagram等平台发布共计20余篇与Nutbox相关的文章;
在Twitter发表超300条与Nutbox相关的动态,在YouTube上发布3条视频;
推动Trading Capital公司成为Nutbox正式合作伙伴👍
日常运营西班牙语社群。
4. @bsfmalaysia【Malaysia】
5. @lnakuma【America】
6. @adikhen【Pakistan】
7. @TimBae【Korea】
【如何申请成为大使】:https://blog.nutbox.io/@nutbox.mine/nutbox-global-ambassador-program-or-nutbox
---
社区数据变动:目前全球订阅者2,098位,较上周增加132位;社区成员755位,较上周增加106位👏
活动播报
线下活动
1.【波卡生态中国行-西安站】6月5日下午,Nutbox 成员出席在"波卡生态中国行"西安站活动,针对《Link to Web3.0 with Nutbox 》这一主题进行了分享。
Sunny,Nutbox CMO,代表 Nutbox出席了此次活动,会上,她围绕 Nutbox 是什么、Nutbox Slot Auction产品如何协助社区和平行链项目方深度参与插槽拍卖、如何通过Nutbox链接至波卡生态等问题进行了通俗且详尽地解答。