SEC S10W1: A gift to myself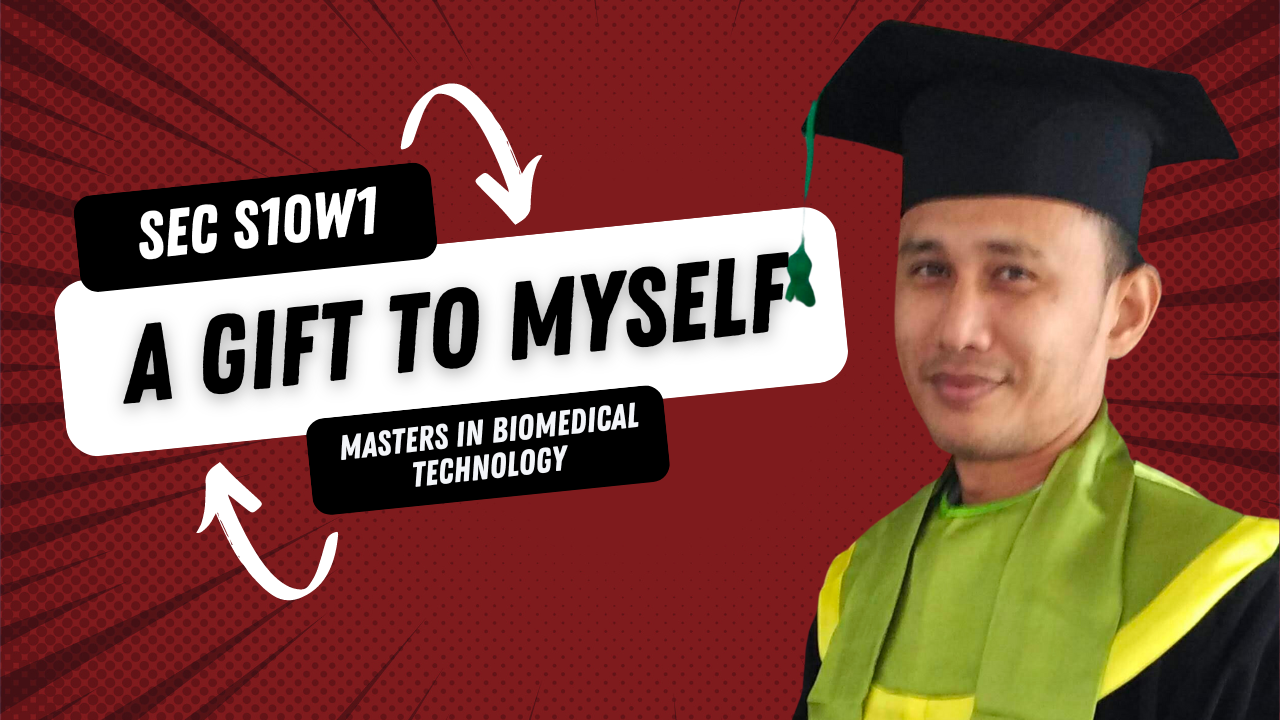 The cover was designed using the Pro version of Canva
A gift to myself is a topic that is a magnet for every active steemian to be able to contribute to the Steemit Engagement Challenge Season 10 Week 1. Thank you for the invitation from @harferri, @afrizalbinalka and @ubongudofot so I can take the time to participate in this topic.
To be honest, I don't have anything special to share in this challenge, but everyone must have a different view of A gift to myself.
1. What gift would you give yourself?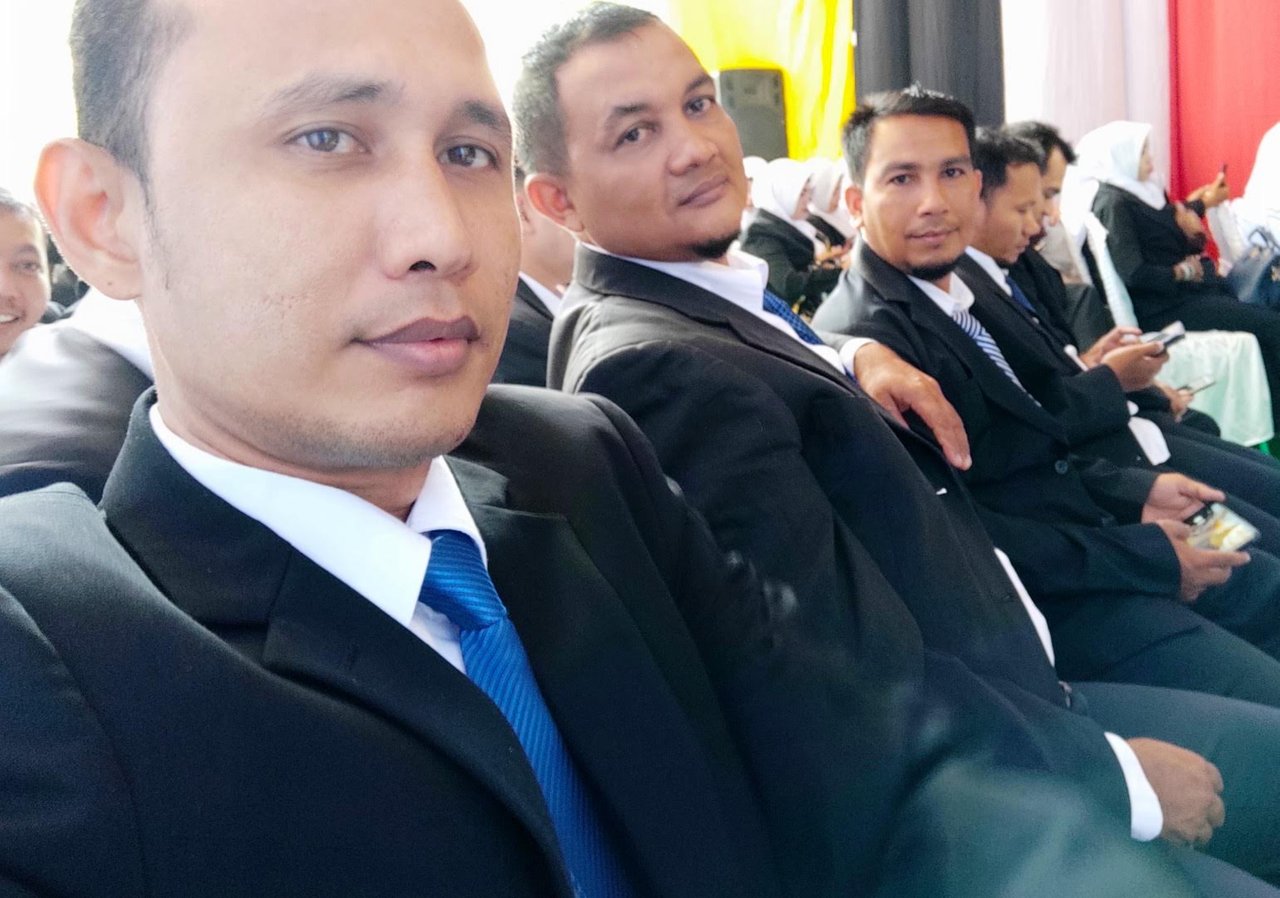 Undergraduate Judiciary
For me, one of the important aspects that encourages the improvement of the quality of life for the better can be done by increasing self-potential, we must not just remain silent and accept reality. I don't want a gift in the form of a luxury car or a beautiful house, for me there are more important things that can be used as the most valuable gift in my life.
Education is the most ideal gift and is a primary need in my life compared to other gifts. The problem is that through education it will open space and opportunities for me to continue to develop myself to be better than now.
I have a big dream that will come true someday, now with a bachelor's degree in nursing + professional education, it is indeed possible for me to have a career in government and occupy certain positions. But I have a different orientation, I need something different in my life, namely being able to continue my Masters in Biomedical Technology education, which is currently still rare in Indonesia.
Through the knowledge that I have, I will be able to build health services through innovative research that is more specific to bioinstrumentation, biomedical engineering and biomedical engineering. This is the biggest dream that I want to make come true so that it becomes a special gift in my life.
2. Would owning it make your life easier? Tell us the reason.
Having more specific knowledge and obtaining a diploma will certainly encourage the realization of my other dreams, as a Government Employee and the staffing system that is implemented, armed with knowledge without legality from the University will not get recognition. So a diploma and knowledge are important capital in my career.
Currently, human resources concentrated in the field of health engineering are urgently needed by the Government of Aceh, so this is a great potential for me to fill this need by applying technical knowledge to build better health services in the future.
This opportunity will certainly be directly proportional to the income I get, not only through research that has received maximum funding but also being able to become a lecturer for health students who are here.
3. How much does this gift cost in your country? You can take the price to steem.
To study for a Masters in Biomedical Technology requires a sizable fee if it has to be funded independently, but there are other alternatives that I can do, for example by participating in a government scholarship program, although it will not accommodate all lecture needs for 4 semesters, but at least it will really help meet educational needs to completion.
If in Indonesia, I can summarize the costs needed for education costs for 4 semesters in the table below.
| N⁰ | Description of Requirements | Cost in IDR | Convert to Steem |
| --- | --- | --- | --- |
| 1 | Development Cost | 15,000,000 | 5,665.06 |
| 2 | Tuition Fees for 4 Semesters | 76.,000,000 | 28,702.95 |
| 3 | Research | 20,000,000 | 7,553.41 |
The total costs in the table as mandatory fees that must be paid during the lecture period are IDR 111,000,000 or the equivalent of 41,921.41 Steem. Converted using in.coinmill.com

The table above is the main requirement so that they can participate in educational programs, besides that they also need other quite large costs such as research, books, theses, master's graduation and living expenses for 2 years. If I pass the scholarship program, the main costs will be borne by the government and only need to prepare living expenses.

4. Does steemit help you save for what you want so much?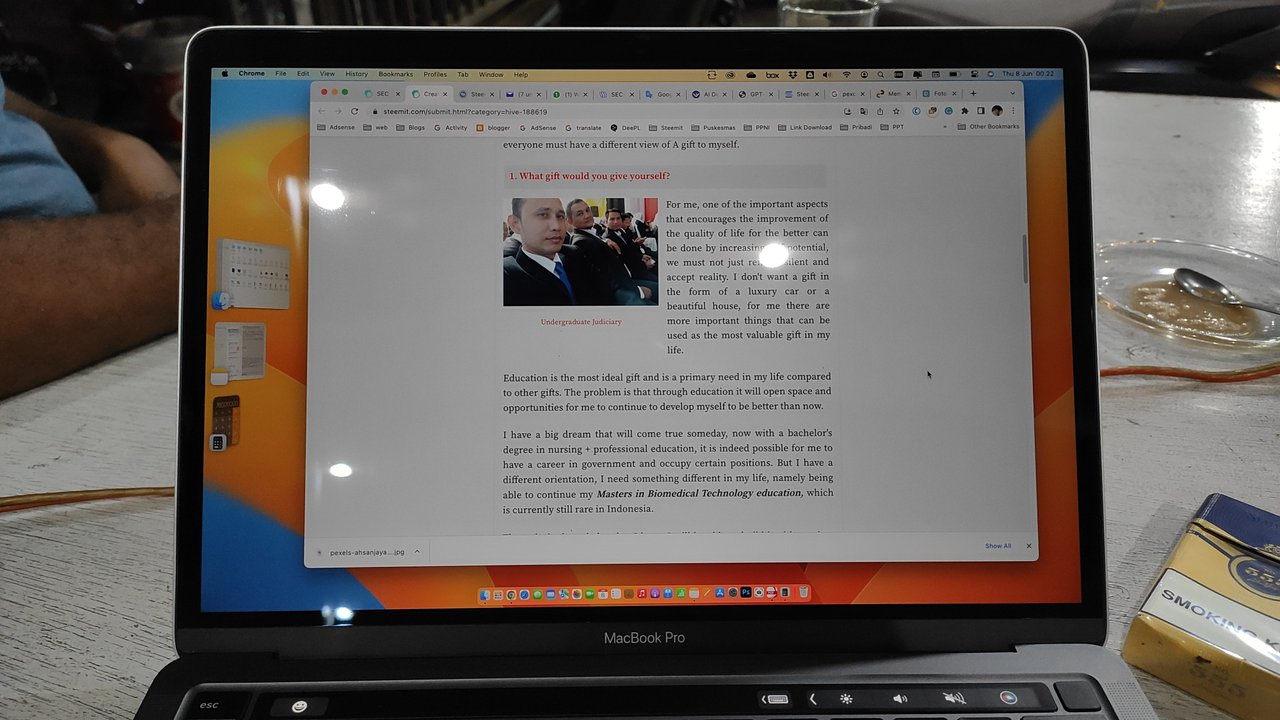 The Macbook Pro M1 that I bought through the Steemit platform

It is undeniable that Steemit has given me many things, starting with fulfilling mobility needs by buying a two-wheeled vehicle in 2017, completing Bachelor education in 2017, completing 2 years of professional education in 2020, buying a Macbook Pro M1 and 2 units of cellular phones as well as additional capital for buying and selling used vehicles.

Looking at previous history, it's not impossible that Steemit will come back to make my next dream come true. Currently I have invested almost 40,000 Steem power and other Steem and SBD assets in several external wallets which are the main source of Steemit and trading profits.

I believe in one thing that, the most beautiful gift for me will come true later, based on the effort that I show and the prayers that I say, and if it's the best in my life, I'm sure that everything will come true later.

5. What other gifts have you given yourself before?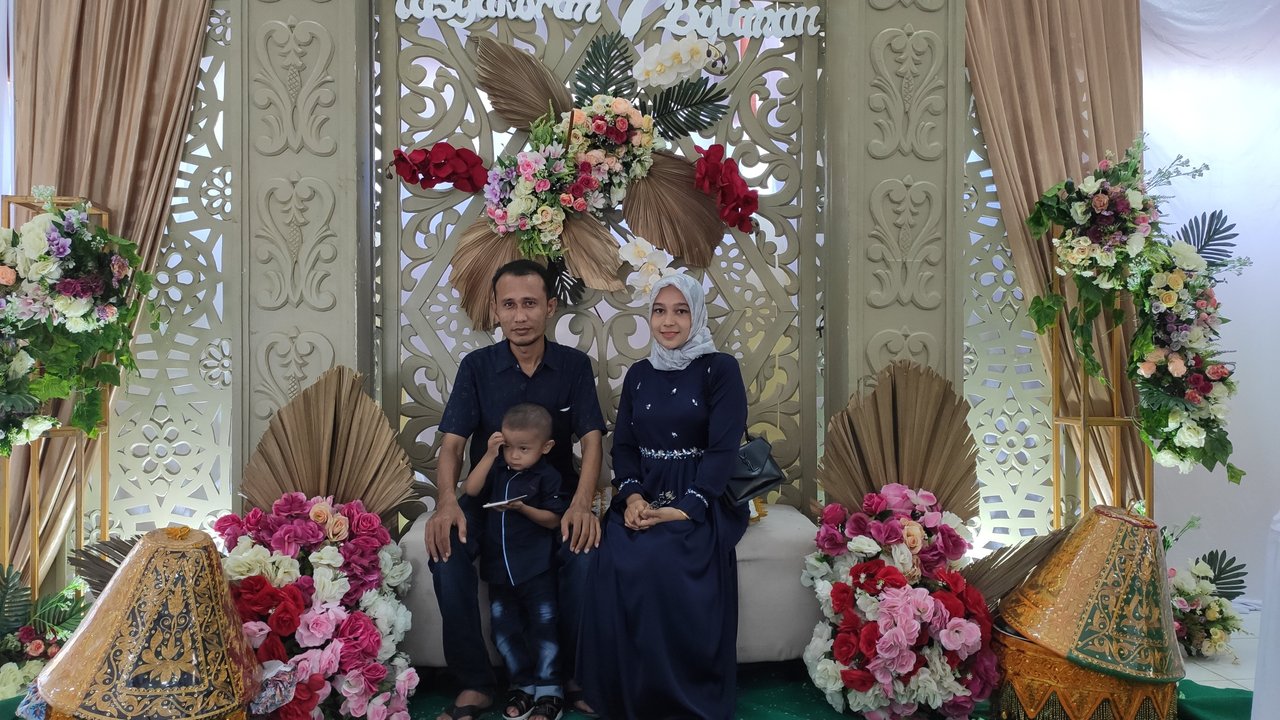 My wife and children, They are God's best gifts

Another gift that has been realized is having a special life partner for me, I have married the woman of my dreams, has a kind heart and is gentle. This is the biggest gift in my life in 2015 when I was 30 years old.

Another valuable gift that is entrusted by God is getting a pair of children as a motivator in my life. Their presence has given a new color to my life today.

That's my short post about the Topic of Engagement season 10 Week 1, hopefully other steemians like @heriadi, @sofian88 and @jufrimj can also participate.

North Aceh, June 08, 2023
Writer

We invite you to support @pennsif.witness for growth across the whole platform through robust communication at all levels and targeted high-yield developments with the resources available.

Click Here